Osaka Koi no Uta is Danshi Joshi Project's first single. It was released on October 11, 2013. 
Tracklist
Edit
1. Osaka Koi no Uta
2. Ai no Dangan (Thea, Jasher, Kaya, Valerie, Sayumin, Michi)
3. Romance no Tochuu (Thea, Arcobaleno, Sayuri, Kei, Natsumi)
Featured Members
Edit
Thea (rep. Tanaka Reina, Sudou Maasa, Miyamoto Karin)

Arcobaleno (rep. Kamei Eri, Uemura Akari)

Sayuri (rep. 

Ishikawa Rika, Miyazaki Yuka)

Kei (rep. Takahashi Ai, Kanazawa Tomoko)

Natsumi (rep. Konno Asami, Takagi Sayuki)

Jasher (rep. Niigaki Risa, Sugaya Risako)

Kaya (rep. Fujimoto Miki, Kumai Yurina)

Valerie (rep. Yoshizawa Hitomi, Shimizu Saki)

Sayumin (rep. Ogawa Makoto, Tokunaga Chinami)

Michi (rep. Michishige Sayumi, Tsugunaga Momoko)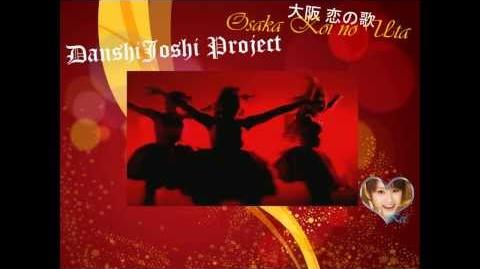 Ad blocker interference detected!
Wikia is a free-to-use site that makes money from advertising. We have a modified experience for viewers using ad blockers

Wikia is not accessible if you've made further modifications. Remove the custom ad blocker rule(s) and the page will load as expected.