Rika-chan

りかちゃん

Promotional Pictures will be added later.

General Information

Also known as


Rikka (by Thea)

Rika-chan

Born

October 17, 1994 (age 20)

Birthplace

French Canada, QC

Genre

J-pop

Occupation

College Student

Years active

Label

Youtube

Agency

DANSHI JOSHI PROJECT (2013-present)

AMAI FRUIT PROJECT (2014)

Associated Acts

Minna Musu。, S/hineage and Rain=bow

Website
Rika-chan (りかちゃん) is a member of the 3rd Generation along with Foxtella and Shiroi. Currently in three of the project's major groups, Minna Musu。, S/hineage, and Rain=Bow. Her image color is Orange Delight.
Upon entering DJP, she was at first known for her love and admiration for Thea . However, she later began to branch out for a sexier image while still having a touch of cute and adorable. 
In Rain=Bow, she is often given lines of Takagi Sayuki.
BiographyEdit
Pre-DJP
Rika was part of groups that had done Hello!Project songs in French.  
2014
She entered Danshi Joshi Project with the other Third Generation members and was in two groups, Minna Musu。 and Rain=Bow .
Rika announced the debut of her original mascot character.
On October 17, 2014, Rika releases her birthday single, [Fantasy ga Hajimaru ]. The single also features vocals from Kerri , Michi , Cheonsa , Mizuki , Sayumin and Priyam . 
Name: Rika
Nicknames: Rika-chan 
Birthdate: October 17, 1994
Birthplace: French Canada, QC
Age: 20
Western Zodiac: Libra
Chinese Zodiac: Dog
Blood Type: A
Height: 161 cm
Hobbies: watching Korean drama, following Hello! Project activities, learning korean and japanese.
Special Skills: adorable baby face lol.
Favorite Colors: Pink, white, silver
Favorite Animals: cat and panda
Favorite Season: spring 
Favorite Foods: Ramen, okonomiyaki, and .... cider ! 
Least Favorite Food: vegetables and seafoods
Favorite Song: Help me!!, Naichau Kamo, Onna ni sachi are, Ai no gundan, Romance no Tochuu 
Favorite H!P girl:

Danbara Ruru, Sasaki Rikako

,

Oda Sakura, Suzuki Kanon, Miyamoto Karin, Asakura Kiki, Inaba Manaka

DanshiJoshi Project Groups: 
     S/hineage (2014-present)
     Rain=bow  (2014 - present)
     Minna Musu。 (2014 - present)
August 5, 2014, Rika announced the debut of her original mascot character. The name and other details are still in the works. 
Mascot ProfileEdit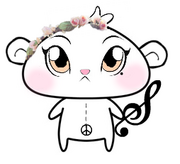 Name: Milk♡TeaEdit
     Nickname: Tea♡TeaEdit
     Height: About the size of a soccer ball. Edit
     Creation: Rika-chanEdit
     Favourite drink: Ice TeaEdit
Favourite color: OrangeEdit
     Special skill: Enjoying Rika's singing Edit
Rika rivals Foxtella as the sexiest member in the group.
Star and Michi discussed the difference in the two sexy people. While Foxtella seems to be naturally cool and sexy, Rika-chan is cute and sexy.
She challenged other members to sing with her in French. 
She admires and idolizes Yuzuriha and calling her the Ai Takahashi and Sakura Oda of the project. 
She calls Thea her beloved sempai. 
She seems to get along with Mizuki. 
Rika is a fan of Korean dramas.
Before becoming a dubber, she was very shy.
She's played the cello since she was 13 years old.
She admire the cellist Wakeshima Kanon.
She would love nothing better than for Yuzuriha to give her vocal lessons.
She has her own character mascot.
Her best sport is Dancing.
When she's stressed, she likes to take baths.  
Her favorite subject is arts.
She has 2 cats named Sissi and Daisy.