Wagamama Ki no mama Ai no Joke/Ai no Gundan is Minna Musu。's first single. It was released on January 2, 2014. 
Featured Members
Edit
Thea (rep. Sayashi Riho)

Arcobaleno (rep. Fukumura Mizuki)

Valerie (rep. 

Suzuki Kanon)

Michi (rep. Sato Masaki)

Sayumin (rep. Ikuta Erina)

Kei (rep. Kudo Haruka)

Sayuri (rep. Ishida Ayumi)

Natsumi (rep. Michishige Sayumi)

Yuzuriha (rep. Oda Sakura)

Rika-chan (rep. Iikubo Haruna)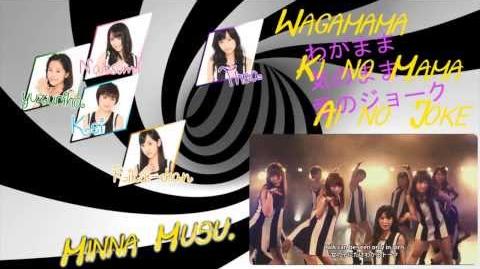 Ad blocker interference detected!
Wikia is a free-to-use site that makes money from advertising. We have a modified experience for viewers using ad blockers

Wikia is not accessible if you've made further modifications. Remove the custom ad blocker rule(s) and the page will load as expected.